[C:IG] Ash Nomads Combat Patrol
Posted:
Sun Mar 09, 2008 4:04 pm
Hey all
seeing as how i just picked up most of what i need to build my Ash Nomads, i thought i would post the list. as usual the list is built to the standard Combat Patrol restrictions and is designed to be used against other balanced/fluffy
CP
lists in a non-competitive environment, on a 4' x 4' board with plenty of (varying) Terrain.
the list represents a mercenary force - nomads living in the ash wastes on my planet Madgra Prime (where all my forces are set). they are employed by the local
PDF
and in return for weapons, armour, supplies and training, they help protect convoys, hunt dangerous animals and track rebels etc, outside the hives. you can see a test piece i converted and painted,
here
.
without further ado, heres the list:
Code: Select all

Magdran Ash Nomads Mercenary Force [400 Pts Army List]

Doctrines:
- Light Infantry
- Cameleoline
- Sharpshooters
- Ratling Squads
- Rough Riders

TROOPS [288 pts]

Ash Nomads Command Squad [62 pts]
Junior Officer: Laspistol, Sword, Surveyor
2 Guardsmen: Mortar
2 Guardsmen: Lasguns
Doctrines: Cameleoline

Ash Nomads Infantry Squad #1 [120 pts]
Veteran Sergeant: Bolter, Dagger
6 Guardsmen: Lasguns
1 Guardsman: Grenade Launcher
2 Guardsmen: Missile Launcher
Doctrines: Light Infantry, Cameleoline, Sharpshooters

Ash Nomads Infantry Squad #2 [106 pts]
Veteran Sergeant: Sword, Plasma Pistol
8 Guardsmen: Lasguns
1 Guardsman: Melta Gun
Doctrines: Light Infantry, Cameleoline

ELITES: Ash Nomads Sniper Team [Ratling Squad] [33 pts]
3 Snipers

FAST ATTACK: Ash Nomads Beastriders [Roughriders] [79 pts]
Veteran Sergeant: Power Weapon, Hunting Lance, Krak Grenades
5 Guardsmen: Laspistol, Hunting Lances
and here is a graphical representation of the force: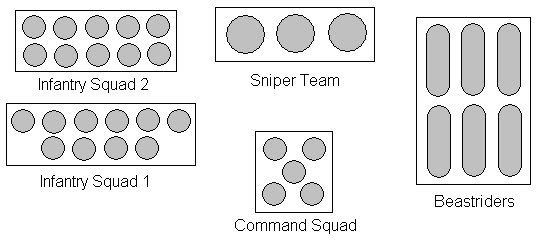 the list is 99% finalised - im thinking of dropping some of the gear on the
RR
Vet Sgt (as long as i can decide what to spend it on), and il be painting up a Plasma Gunner so i can swap him for the Melta Gun in the 2nd Infantry Squad if i want to (same pts cost).
the idea is that the Command Squad sets up behind/hidden in Terrain and the Beastriders set up to one side (also hidden), then the rest of the force Infiltrates. the Snipers set up in front of the Command Squad (in the same piece of Terrain), to benefit from the Officer's
Ld
. the 2 Infantry Squads deploy either side, so as to catch the enemy in crossfire from 3 directions. squad 1 acts as a long(ish) range shooting squad, while squad 2 works its way closer (through terrain) to bring its weapons to bear (charging where they might stand a chance). the Beastriders move from cover to cover ready to charge anything that gets too close/support the 2nd squad.
the list has some anti-tank (Krak Grenades/Missiles, Sniper Rifles, Melta Gun, Lances), anti-infantry (lasguns, Frag Grenades/Missiles, Sniper Rifles, Mortar), anti-Meq (Plasma Pistol, Melta Gun, Krak Missiles, Lances) and some Pinning (Mortar, Sniper Rifles). i think they should be able to hold their own, whilst being interesting to use.
i was thinking of dropping the
RR
Vet Sgt down to a normal Sgt, and spending the pts to give Frags to the 2nd Infantry Squad... or maybe giving them Sharp Shooters (although that wont help the Plasma Pistol or the Plasma Gun when i swap him in), and i could add Krak Grenades to the Vet Sgt in the 2nd squad too (with a pt left to give Frags to the 1st squad's Vet Sgt, so they can kill walkers in
CC
incase they get charged by a Sentinel etc).
thoughts (on the theme, the models il be using, the tactics, the list and the changes)?
cheers
~ Tim